"The

Chanel

or

Balenciaga

,

Louis

and

Vuitton


She know I got the

Fendi

,

Prada

when I hit Milan"
(Lil Tecca in "Ran$om", US-Chartplatz 28, 2019)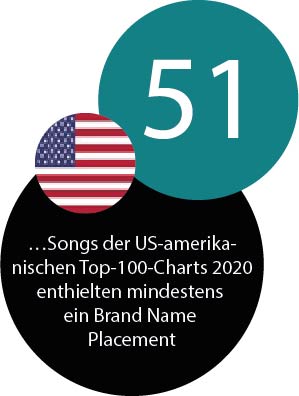 Chanel, Balenciaga, Louis Vuitton, Fendi und Prada. Fünf Markennamen, zwei Verse und ein musterhaftes Beispiel für Brand Name Placement in Songtexten. "Ran$om" demonstriert, wie sich ein milliardenfach gestreamter Hiphop-Song zu einer reichweitenstarken Plattform für vor allem Premium- und Luxusmarken entwickeln kann.
Das Erwähnen von Marken in Songtexten ist seit vielen Jahrzehnten allgegenwärtig und hat insbesondere durch die steigende Beliebtheit von Hiphop- und Rapmusik in den letzten Jahren weiter zugenommen. Teilweise werden Musikfans beim Hören eines Hiphop-Songs mit einer zweistelligen Anzahl verschiedener Markennamen innerhalb nur eines Songs konfrontiert. In Deutschland war es 2019 vor allem der Rapper Capital Bra, der die Charts mit 14 Top-100-Songs klar dominiert hat und dabei mitverantwortlich für den hohen Anteil an Hiphop-Songs mit Markennennungen gewesen ist:  Bis auf das Lied "110" mit Samra und Lea enthält 2019 jeder Charthit von und mit Capital Bra mindestens einen Markennamen. Im Jahr 2020 war es vor allem Rapper Apache 207, der die deutschen Charts mit immerhin 10 von 100 Songs eingenommen hat, darunter acht Songs mit mindestens einem Brand Name Placement. In den US-Charts haben im Jahr 2019 Hiphop-Künstler wie Post Malone, Cardi B und Drake zusammen bereits 15% aller US-amerikanischen Top-100-Chartplatzierungen unter sich aufgeteilt, im Jahr 2018 sogar 20%. Bis auf das Lied "God's Plan" (2018) von Drake, "I Fall Apart" (2018) von Post Malone, "Sunflower" (2019) von Post Malone und Swae Lee sowie "Circles" (2019) von Post Malone enthielten dabei alle Songs von und mit diesen drei Künstlern Markennamen.
Einen einführenden Fachbeitrag zu den Studienergebnissen finden Sie hier.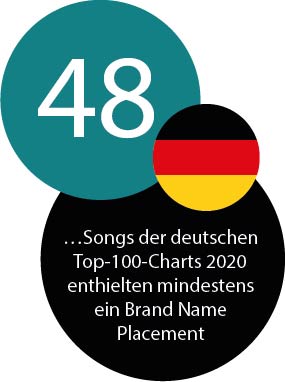 Song-Beispiele mit Brand Name Placement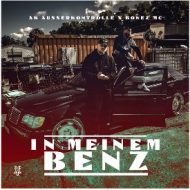 "In meinem Benz zähl' ich die Stapel und trink' Capri-Sonne"
(AK Ausserkontrolle x Bonez MC; In meinem Benz; Nr. 21/100; 2020; DE)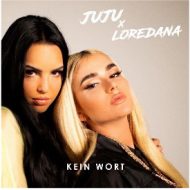 "Nein, ich brauch' nicht dein Geld, 
kauf' die Gucci-Tasche selbst
Werd' gebucht, 100k, Fendi, Louis – schon bestellt"
(Juju x Loredana; Kein Wort; Nr. 24/100; 2020; DE)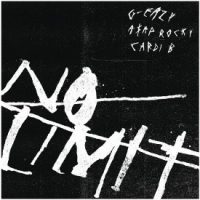 "Apple phone, Prada case.
Kill a weave, rock a lace
Fuck the Moet, buy the ACE 
Fuck the Ghost, drive a Wraith
Get some money, flood the Rollie
Fuck the Rollie, Patek face"
(G-Eazy Featuring A$AP Rocky & Cardi B; No Limit; Nr. 30/100; 2018; USA)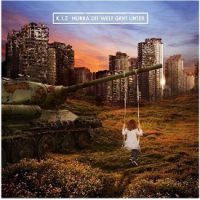 "Verbrannte McDonald's zeugen von unsern Heldentaten
Seit wir Nestlé von den Feldern jagten
Schmecken Äpfel so wie Äpfel und Tomaten nach Tomaten" 
(K.I.Z. feat Henning May; Hurra die Welt geht unter; Nr. 97/100; 2015; DE)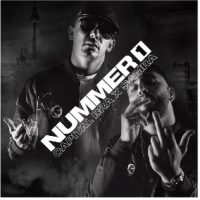 "Ja, ich liebe dein Gucci-Kleid
Und bitte tritt nicht auf die weißen Nikes"
(Capital Bra x Samra; Nummer 1; Nr. 98/100; 2019; DE)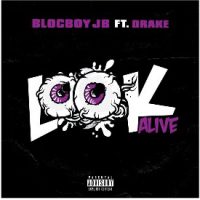 "I'ma spray 'em, just like Febreze (Huh, like Febreze)"
(BlocBoy JB Featuring Drake; Look Alive; Nr. 23/100; 2018; USA)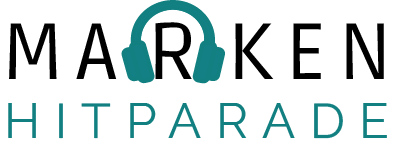 © 2021 by Dr. Karsten Kilian und Kathrin Zocher. Alle Rechte vorbehalten.